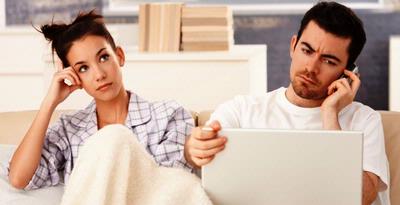 Some time ago, Professor Thomas Klein of the University of Heidelberg said, there are some warning signs that your relationship is in trouble, ie a sudden obsession for exercise and diet. When the couple began to show signs of this kind, there is a possibility he was preparing himself to end a long relationship and looking for new partners. This may be true, but there are also couples who do it purely because they want to start a healthy life alone. All you need to observe is the big picture. According to Dr. Ian Kerner, sex and relationship consultant who is also founder GoodInBed.com, there are five signs that indicate that your relationship and your partner will soon be over.
1. You do not know what should be the talk. You actually still love him, but for some reason you often feel bored. You do not know what could be to talk about, or felt he was not quite a lot trying to chat with you. When were together, you and he are both silent or busy with yourself.
2. You are not concerned with the closest people, whether family or other people who became his role model (and vice versa). You are not interested to know your family or friends, or no longer doing the important things that mattered to him. The fact that one member of his family managed to do a particular achievement, or is experiencing a particular disaster, it did not touch yourself.
3. Suddenly one of you become a workaholic. "You drown yourself in work, and make yourself difficult to find than usual. Or do things that mess up the schedule and activity rhythms that once you are stacking together," says Kerner. In short, you do not want to get involved too much with him.
4. You often travel in groups. Wanted to eat together outside, but one of you secretly invite another friend. Surprisingly, you or he does not object to that! If you both always have a reason to avoid intimate moments as a couple, there is the possibility you did not want to stand out from the relationship.
5. You two are not mutually supportive. Did he make the fraud, or aggressive comments, thus decreasing your confidence? Or you belittle her in front of his friends, or make fun of his ideas? Couples who have a healthy relationship would be mutually supportive of one another. (kompas)